photo from triedandtruerecipes.blogspot.com
Or as I call it, "all mine".
That face is thinking "If you touch my pavlova...I will bring down the boom."
And I will. Just ask my kids. Muahahaha.
Okay, so...how does one make this plate of perfection?
Beat 6 eggs white until stiff.
photo from tourism1.blogspot.com
Here's a tip: separate the eggs one at a time, THEN when you are sure there's no yolk in the white, THEN put it in the mixing bowl. Egg whites don't whip 'up' if there is one drop of yolk, so do each egg, one at a time.
I usually just turn the mixer to medium and leave it to do its work.
Once the whites are stiff, add 1 1/2 cups of white sugar, not all at once though. Sprinkle it on, or you'll crush the nicely whipped egg whites.
Whip the egg whites and sugar until the grainy feel of the sugar is as diminished as possible.
Then add one teaspoon each of vanilla, white vinegar and cornstarch, and beat a few more minutes..
Put a sheet of parchment paper (do as you're told) on a pizza pan or baking sheet. I use a round pizza pan that has holes it in. I prefer using this pan because the heat goes up into the meringue and gives it a better texture than a plain cookie sheet.
Bake for ONE HOUR at 250F, then turn the heat off and leave the shell in overnight.
CAREFULLY remove the cooled shell from the parchment paper. I do this by holding the shell and paper in one hand and peeling the paper by the edges all around until it comes off. If you do it SLOWLY , then you won't crack the shell in half. The shell will crack, it always does, but just a bit.
Place shell on serving plate.
Whip 1 1/2 cups whipping cream, yes, with sugar, and spread on the shell.
Add 2 pounds of sliced strawberries, yes, with a bit of sugar to bring out the juices, or any kind of berry combination you like, even kiwis.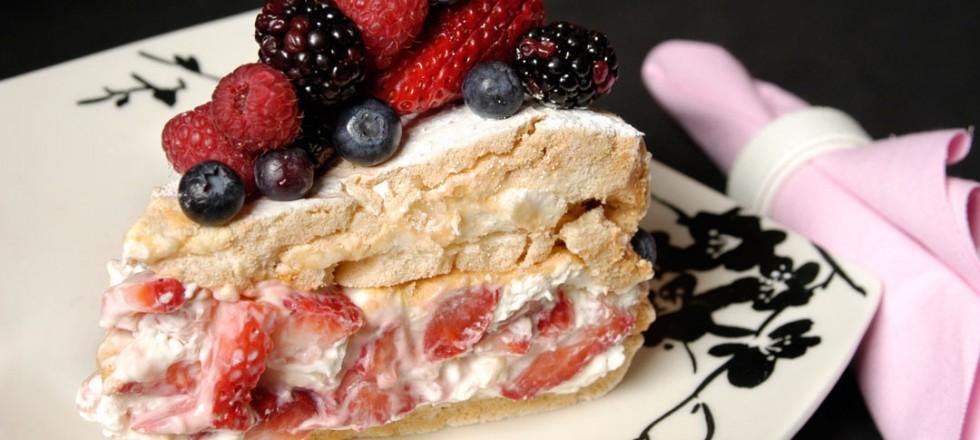 photo from Ciaowinnipeg.com
I dare you to only eat one piece!!