Joining us today at TFTR is a great writer who is also one of the NICEST people I've met along the way here in Writerland. Katie has her second novel coming out March 19th, "Wishing on Willows" picks up a few years after the pages closed on "Wildflowers from Winter".
Katie was gracious enough to not only join us, but to guest post too!
I urge you to pick up a copy of Wishing on Willows when it releases, it's a GREAT read and I also advise you to have a box of tissues nearby. Okay, several boxes. And something to eat, cuz Robin will make you hungry. And grab a coffee, or a tea, oh, and a stick, for whacking Ian for being so charming.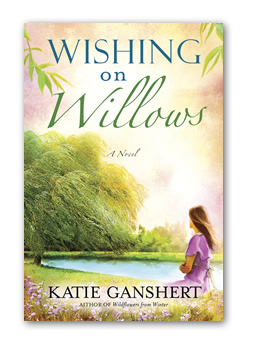 So without further ado, here's Katie!!!
More than a Fringe Benefit
When I set off on my journey toward publication, my goal was singular: get published.
Pursuing that goal has taken a lot of time and commitment and let's be honest, faith. Because there are no guarantees. So much is outside our control. But I was committed to doing everything I possibly could to make that dream happen.
Seeing my book in the hands of readers would be my reward, my payoff for all the hard work.
And it has been. Hands down, holding my book and hearing from readers is amazing. A gigantic blessing and a huge encouragement.
But there is another reward that has come about as a result of my pursuit. One I never could have expected. One I wasn't even looking for.
And that is the friendships.
People like Jeannie Campbell and Wendy Miller and Jennifer Major and a myriad of others who I never would have known had I never pursued publication in the first place.
These are people you meet in the trenches.
These are the people who understand that crazy, insane passion that drives us to get up at four in the morning or stay up until two in the morning, all to pen stories, quite often in obscurity.
They understand the rejection and the waiting.
They understand the burning desire to share our stories with others.
They understand when we talk about fictional characters as if they are real. They get the flashes of inspiration that come so quick and hot, you have to pull over to the side of the road and write it down on a crumpled up McDonald's wrapper.
This is what brings us together. This is how these friendships are formed. Writing.
But then, after a few phone calls or emails, it becomes more than writing. And all of a sudden, you have these sisters in Christ, these prayer warriors, these life encouragers we never would have had if we wouldn't have pursued publication in the first place.
We often talk about how writing is a solitary career. So much of it is spent alone. Just you, a pen and a notebook, or a document on your computer screen.
But I've discovered that writing is community.
A brave, welcoming, encouraging community. One that will celebrate with you, struggle with you, and come alongside of you.
Even if I never saw my book on a book shelf, this community makes it all worth it.
Let's Talk:
What unexpected blessings have come about because you are a writer?